With the blogs in this series I want to reach not only my typical audience, security professionals, but especially less security aware people to help them improve their personal security. If you think the content is helpful for people you know, share it with them!
For us adults, it's hard to stay safe online and not to fall for the latest deception techniques used by criminals. Children are even a lot more vulnerable to the potential dangers of using the internet.
If you have children you should educate them about online security and privacy. In this post I will give you some advice that hopefully helps to keep your children safe online.
Keep your devices secure
I've talked about basic device security throughout this blog series. But I want to reiterate the importance quickly. Make sure the devices your children use:
Run antivirus sofware
Are kept up to date: the operating system and other applications must be updated regularly
For more tips about mobile device security read this post.
Learn your children the online security and privacy basics
The online behavior you want to learn your children is pretty similar to how you want them to behave in the real world. The big difference is that the risks are a lot bigger online. I listed a few tips here.
Show them how computers work. Sit next to them regularly and help them.
Tell them what they can and can not share online. Explain why they shouldn't share personal information about themselves, family and friends.
Emphasize that they should not interact with people they don't know. Even not if they seem really nice, on the internet nothing is what it seems. If a person starts asking them personal questions they should ask themselves why this person wants to know all of this information.
Tell them that if things look to good to be true, they mostly aren't true.
Explain that criminals send malicious links and documents in order to steal personal information like usernames and passwords and that they even do so by impersonating people you know vie email or text messages.
Tell them not to download software from shady websites. Learn them what kind of sites to avoid.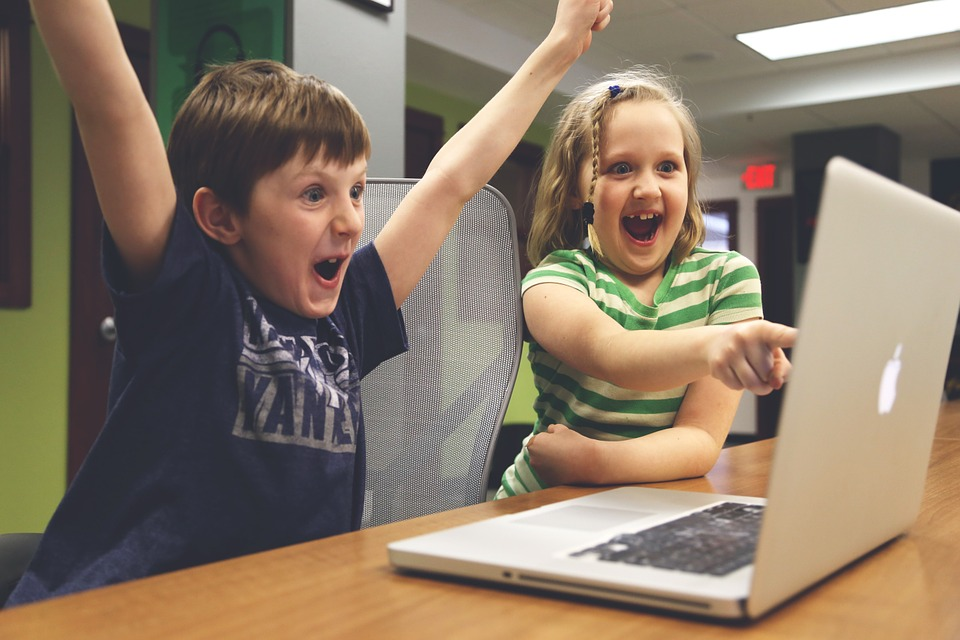 In any case don't scare your children with horror stories, but tell them for instance that people lost money because of clicking on malicious links. Or people's computer no longer worked because of viruses that got installed on their machines after downloading a malicious file.
It's also very important that they know they should contact you whenever they doubt about something or feel something is not ok. Encourage them to ask questions and assure them that you will not be angry if something happens. It's not their fault, anyone can fall for the devious tricks from online criminals.
Parental control
As a parent you should know what your children are doing on the computer or on their mobile devices and block content that's not suitable for them.
It's important that you know who your children are talking to online. If you notice they are chatting with people they don't know you should tell them to stop the conversation. Also look what's the conversation about and if it's really inapproprate report the abuse. But even if the people seem familar, impersonation is still possible. And cyberbullying by "friends" or class mates is not that uncommon either.
If your children use the computer or mobile devices make sure you can see what they are doing. You don't have to stand behind the computer or look at their tablet all the time, but when you're in the same room as them you will have at least a better view of what they are doing and you can observe their reactions. If they look worried there might be something going on online.
There's also parental control software available that can help to follow up and restrict what your children are allowed to do on the internet. Typically these applications can block websites or applications, set time limits and monitor the online behavior of your children.

Windows has a built-in parental control feature which offers the following options: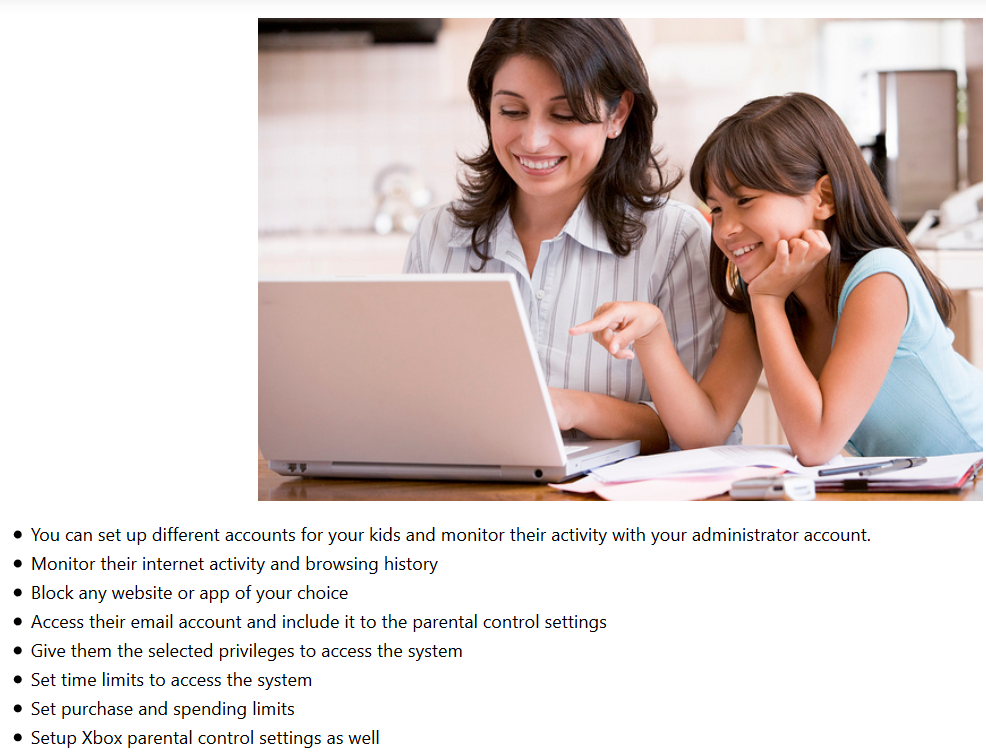 macOS also has a parental control feature. In this video you can see how you can enable it.
If you want to enable it for iOS watch this video.
If you have an Android device you can find a step by step guide here.
Some apps also foresee a version that's appropriate for kids and that offers parental control options. For instance the YouTube Kids app.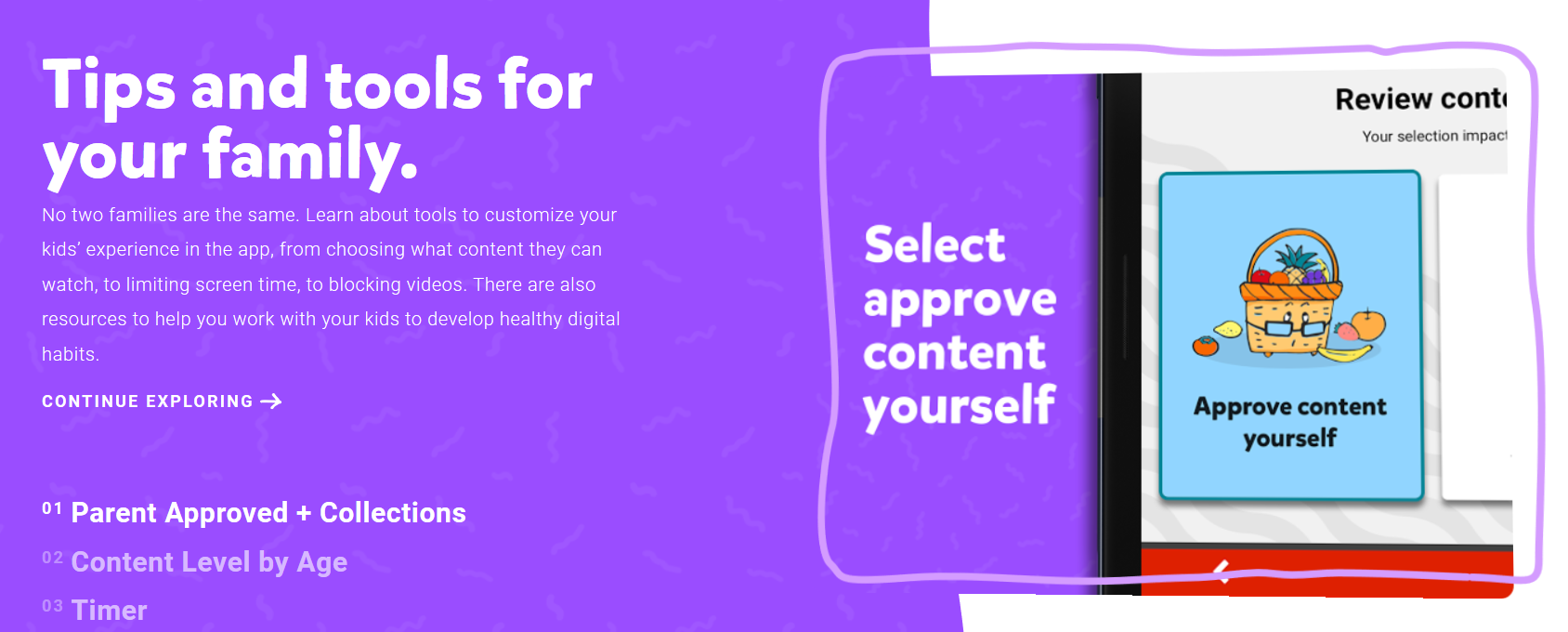 Conclusion
As we have seen there's a lot you can do to help protect your children online. Tools like parental control can be certainly helpful, but it's equally - if not more - important that you inform your children how to deal with the risks that are inherently associated with the internet.
That's all for today, tomorrow more security tips in part 26 of this blog series. In the meantime stay safe online!