It's the last day of the year and a new decade is about to start. An ideal moment to reflect on what happened this year. I did the same last year and earlier this year I took the time to reflect on the goals I set back then. I think I reached most of my goals, but for some of them there's still room for improvement.
My personal highlights of 2019
The first highlight of the year was BSides Leeds. I will always remember this event because it was the first time I spoke at a conference. Together with the rest of The Beerfarmers we brought our "We take your security seriously, or do we?" talk.
Although it was a bit messy at times, it was a great experience. It was also the first time I met my mates from The Beerfarmers in real life. They also introduced me to a lot of people from the UK information security community. To me meeting new people or people that I only know from Twitter is a big part of what attending conferences is about.
In February I attended SecAppDev, a conference in my home country. It was nice to meet Philippe De Ryck (who's part of the organizing team) again. I also met the one and only Jim Manico for the first time.
I wrote a blog about the first day and then Philippe joked: "Now you have to write one each day." And when someone challenges me...
You can find my reviews here.
My personal website
At the end of April I finally launched my own website.
Until then I had my blog on Medium, but I was no longer happy with it. I got little to no organic traffic from Medium, I was not in full control of my content and it was getting more and more commercial all the time. It was Daniel Miessler who finally pushed me over the line to start my own website. And it was my mate Sean Wright that guided me to self host Ghost. I'm happy with the blogging experience and the look and feel of my site. In the meantime all my previous blogs on Medium have been migrated to my website.
And then the highlight of my year, my second conference as speaker at BSides London in June. This time The BeerFarmers were joined on stage by Troy Hunt and Scott Helme. An unforgettable experience as you can read in this blog.
In August we spoke at BSides Manchester, another awesome experience. Very crazy talk! And a very well organized conference. You can read more about it here.
Blog, work, eat, blog, sleep repeat
End september I got the crazy idea to write a daily blog in October for Cybersecurity awareness month. I wasn't well prepared and it was literally like the title says: blogging before work, a full day of work, eating, blogging and going to bed. But I succeeded and I was quite satisfied with the result. The blogs were also well received and shared by a lot of people. You can find the links to all these blogs in this post. In this blog I look back on my blogging adventure. When I publish this blog I will have written 74 blogs this year and recently I wrote my 100th blog overall.
Beercon One
To finish the year in style there was Beercon One in December. It was a 24h online podcast marathon organized by The BeerFarmers to support a few good causes. It was a big success with a lot of renowned information security professionals on the schedule and more than £7,500 raised for charity.
Kudos to Mike Thompson, Ian Thornton Trump, Sean Wright, Stuart Peck and all the other The Many Hats Club members that made this possible.
Goals for 2020
A new year often means a lot of good intentions. I also set some realistic goals for myself.
Less information security
Like I said earlier, for some of the goals I set exactly 1 year ago there's still room for improvement. One of them is to lose some weight and get back in shape. I certainly did some sports this year but not as much as I want. I shared my first goals for the new year on Twitter, now I have no choice but to make it happen!
I already started with running a bit more during Christmas holidays. These are the stats of last week.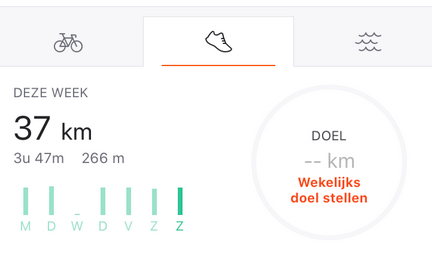 Feeling better physically will definitely help me to get the balance right. Less time behind the screen, more time for my family and my own fitness!
Security conferences
I will try to attend some security conferences again in 2020. I registered already for SecAppDev and I will most likely add a few Bsides conferences to the agenda.
The Beerfarmers will put in some CFPs and you might see me on stage somewhere in 2020. At the moment I'm not plan to speak at conferences, at least not at security conferences.
Security awareness
One of the reasons I don't intend to speak at security conferences is because I want to put more energy in spreading security awareness. And the people that need it the most are typically not attending these conferences. I want to expand on the October awareness blog series and create new content. This could be video content, but also presentations at user groups or non security conferences. If you know about conferences or other events where you see this kind of talk fit - preferably in the Benelux - please let me know via the replies or on Twitter.
Security newsletter
One of the ways in which I will try to spread more security awareness is via my security newsletter. The first newsletter will be for next week, but you can already subscribe. It will be a weekly newsletter and except security awareness it will contain insights on other relevant security content.
Security podcast
I have been thinking about starting a podcast for a while. Somewhere in 2020 I will make it happen. I have to think about the format, but it will be security awareness related.
Blogging
And last but not least I will definitely continue to write blogs in 2020. Blogging is for me the easiest and most natural way to express my thoughts. I feel a lot more comfortable with blogging than with public speaking or doing podcasts for instance. Because of the other plans, like the newsletter and the podcast, I will probably not blog not as much as in 2019 though.
Happy New Year
In general I think 2019 has been a good year infosec wise. I have met many awesome people and I have build a lot of valuable connections. My growing online profile offered several opportunities which I otherwise wouldn't have got.
I hope I can realize my goals in 2020. I wish you and your beloved ones a Happy New Year and I  hope you can make your dreams and plans come true in 2020, whatever they may be.